"I want a healthy relationship, based on mutual respect and love, not on suffering and submission".
"We loved each other, what happened, how can we recover the illusion, the affection?
"I want to be myself and to be able to express myself without fear.
"I am always attracted to the same type of man/woman, it just doesn't work!
"I miss so many things in my life as a couple, everything has become mechanical!
There are three main causes that lead to conflict in a couple's relationship:
Lack of balance within the relationship.
The absence of shared values and common purpose.
The inability to communicate with respect and understanding.
Often it is no longer about being happy together but about being right, or looking for the problem or mistake in the other. This is the "end" of love.
Control, victimisation, jealousy, fear, guilt, lack of interest, frustration and suffering, violence … are serious obstacles to a harmonious and balanced love relationship.
In the coaching process we will work on questioning and changing thought patterns and behavioural patterns that have been established over time.
Through individual and couple sessions, you learn to:
Often, this path will lead to new mutual understanding, respect, esteem and closeness. If this is not possible, at least no one will have failed, even if the decision is to end the relationship.
I invite you to begin the journey!!!!
"I know there is someone else in his life and I don't know what to do, I am filled with anger and sadness.
"I want to break up, but I am afraid of the consequences".
"I am afraid of losing my children's affection because of the divorce".
"We want to separate as friends, without losing respect and affection.
"We no longer love each other, but we are unable to end our relationship".
When a couple separates, there is a host of emotions on both sides. In addition to pain, anger and disappointment, there is always a feeling of failure and guilt. However, no one has failed when, at the end of a relationship, it becomes clear that there is no longer a common future and that we have to go our separate ways. In this case, it is a matter of working on acceptance of what is.
Invisible, sometimes also visible, insurmountable walls have often arisen. Every conversation ends in a quarrel, reproaches accumulate, the distance between the two grows and there is hardly any room left to be happy again.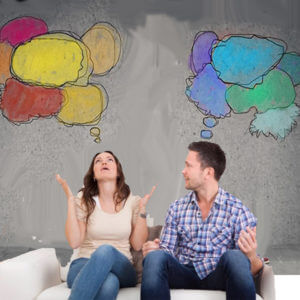 Many people struggle with the question "Should I separate?" And there is the fear of being alone, of losing the affection of their children, the fear of financial and social consequences, or that the decision may be "wrong".
There are no right and wrong decisions. People who make their decisions with honesty and courage, face reality, accept things as they are and, despite the pain, are able to make the best of each situation, are people who grow and mature from their experiences. In this sense, every decision they make will be the right one.
There is help in making decisions. There are answers to the many questions that arise in this situation.
I accompany and support you both in a critical situation in your relationship, as well as to face the process of separation or divorce, with closeness and professionalism to find solutions either to a future with separate ways or to try to walk together again..
Y hay un camino que hace posible separarse con respeto y gratitud…
If you, both of you, are willing to follow it.